Banyan Gasparilla Sound Community Inventory – there is remaining inventory in the Resort Condos, but with limited time to reserve units before they move into the contract conversion phase. These units offer first-rate services and amenities with a resort lifestyle. With the purchase of a fully furnished Resort Condo, not only do you enjoy ownership of a full-service home, but are also offered the option to include your unit into a potentially outstanding rental program.
Interior renderings of a planned resort condo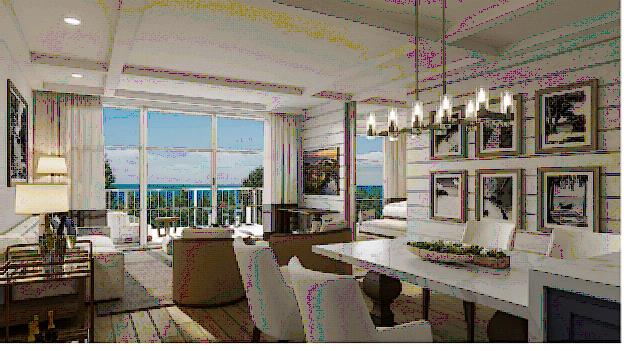 Banyan Gasparilla Sound Community Inventory
Inventory is available in the following buildings:
Bougainvillea (all one bedroom plus den): From $980,000 – $1,040,000 +
Orchid (all one bedroom plus den): From $1,040,000 – $1,115,000 +
Hyacinth (all one bedroom plus den): From $1,345,000 – $1,380,000 +
Hibiscus (all one bedroom plus den): From $1,350,000 – $1,425,000 +
Jacaranda (all one bedroom plus den): From $980,000 – $1,065,000 +
*note these prices are current as of 7/7/2022 and are subject to change w/o notice
These condos will be managed by Evolution Hospitality, a subsidiary of Aimbridge Hospitality, the global luxury brand known for exceptional white glove service at leading properties internationally. Their restaurant group, Taste & Theory, will provide the dining concept, which will be exceptional. Evolution's deep tranche of experience curating exceptional lifestyle experiences is unmatched and is sure to take Banyan Gasparilla Sound to the next level.
Banyan's Community Features and Services Include*:
Over 11,000 SF of Spa & Wellness Designed by award winning TLEE
White Glove Concierge Services
Signature Restaurant & Bar
Exquisite Card Club Room & Lounge
Resort Pool & Sundecks Overlooking the Sound
Private Owner's Grilling Area
Wellness Juice Bar & Cafe
State-of-the-Art Fitness Studio
Intimate Outdoor Fire Pits
Marina Slips and Kayaks & Paddle Boards
*Membership required at the time of purchase
Learn more by watching –
As always, please contact Carol Stewart, Your Boca Grande Local with a Global Network!
email: [email protected]  or call: 941-276-1162